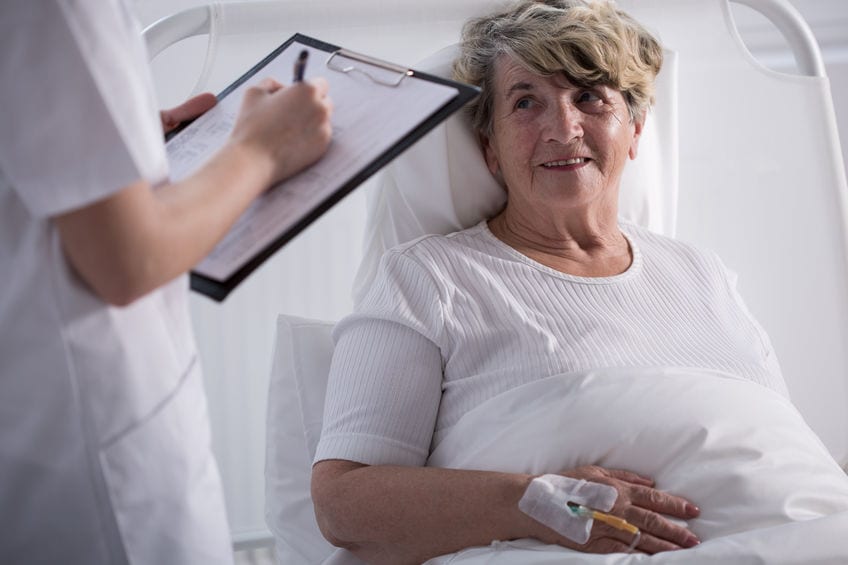 WILMINGTON, DE—With no end in sight to the national healthcare debate, one community hospital in Wilmington, DE is experimenting with a new way for patients to pay off their debts. Patients at Wilmington General Hospital who are ready to be discharged home now have the option of staying longer and performing scut work in lieu of paying their hospital bill.
"Look," said hospital CEO Marvin Gore, "we know that it can be hard for our patients to afford medical care. We also know that there's a ton of tedious tasks that must be completed everyday for a hospital to run smoothly. And as a tiny community hospital, we don't have lowly medical students and residents to foist these menial tasks upon. So we let our financially-strapped patients do them—it's a win-win situation. They don't have to pay us, and we don't have to pay them!"
Early results seem to be very promising. Current scut workers include Gertrude Steinman, a frail 92-year-old woman with dementia admitted for pneumonia who indicated she lacked the funds or insurance to pay for her stay. So upon discharge one week ago, she opted to stay and do scut work. Her first task was to deliver STAT bloodwork from a coding patient to the lab. Seven days and seventy stops for directions later, she is nearly halfway to the lab.
With this new plan, there is no shortage of scut workers. Trish Berman, a 71-year-old woman admitted with giant cell arteritis complicated by sudden blindness, is now busy attempting blood draws and IV insertions. Mark Pham, a 36-year-old man hospitalized for severe cellulitis of his right arm, now has that same arm deep inside an elderly man's rectum struggling to disimpact a lodged piece of hard stool that just won't budge.
Then there's Raymond Cleary, a 74-year-old man status post MI, who was seen transporting an obese patient up a ramp towards the Radiology unit. After helping lift the heavyset patient onto the CT scan table, Mr. Cleary promptly collapsed. But not to worry, Ms. Steinman is on her way to go get him and deliver him to the ER…just as soon as she drops off those test tubes.
While Mr. Gore acknowledges that patients recovering from acute illnesses may not be the ideal candidates to perform these tasks, he admits it doesn't really bother him. "As long as it gets done and it's not me doing it, I frankly don't care who does," Gore said.
"If all goes well," the notoriously thrifty CEO added, "in a few years, these patients will be running the entire hospital themselves."