Update July 2019. Voyager has now launched trading in 49 out of 50 states (all but New York). If you signed up for this $25 bonus (and hopefully referred others), you can now claim all your credits by downloading their Invest Voyager iOS app (Android app not out yet) and creating a new account with the same email address you used initially. It may take up to 30 days to receive the bonus, according to their terms. I did receive my $25 new customer bonus as promised and additional $25 bonuses for referring others that opened an account. I was also offered an additional $50 bonus for funding with $250 and making any trade of $250 (even a quick commission-free buy and sell). I never thought I'd own any Bitcoin, but here I am: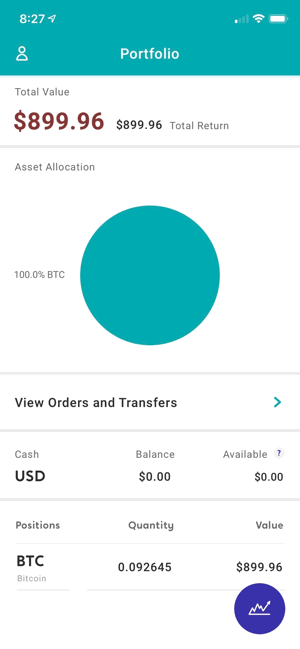 I'm still not a Bitcoin enthusiast and plan on selling my BTC for good ole' USD, but Voyager itself seems legit and growing. They are listed on the Toronto Stock Exchange, recently acquired the Ethos wallet, and also acquired a FINRA broker-dealer.
Original post: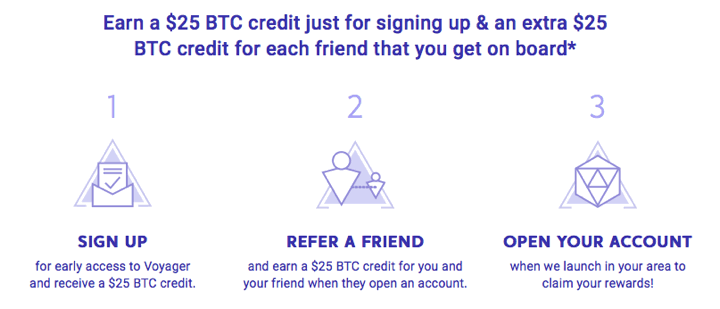 Update: Referral program has ended, but new users can still get $25. Voyager is a new trading app that intends to offer commission-free trading of least fifteen different cryptocurrencies, including bitcoin (BTC) and Ethereum (ETH). It hopes to differentiate its service by offering more access to different exchanges and thus better liquidity and pricing. Sounds like "smart order routing" when it comes to stocks. This means it will compete with the Robinhood app, which also offers free trades for both stocks and certain cryptocurrencies.
I have never owned a single Bitcoin. I'm checking into this company because it is offering $25 in free Bitcoin to anyone who signs up early, and other $25 for each person that you refer to sign up (up to 100 people). As far as I can tell, it seems like a legit start-up with real venture capital funding and real (rich) people backing it. If they want to give away free stuff to try out their service, I will accept. You can build up referrals now and claim the early bonus, but the app is not live yet so you can't actually open an account yet to claim the credit. Right now, they just want your name and e-mail.
*All BTC credit is issued in pending status and requires the opening of a valid Voyager account to be claimed. Stay tuned for news about when Voyager launches in your area. Voyager's promotional and referral programs are currently only available to US residents.
Voyager's co-founders include some notable figures in the industry. The CEO is Stephen Ehrlich, the former CEO and founder of Lightspeed Financial (which was formed by the spinoff of the professional trader arm of E*Trade). Oscar Salazar, Uber co-founder and former Chief Technical Officer. Philip Eytan, an early Uber investor. Here is a Fortune magazine profile.
Here is my $25 BTC referral link, thanks if you use it. (Update: The referral program has ended, but it appears you can still use the link to get $25.) After you sign-up and confirm your e-mail, check your e-mail again and you should be given your own referral link to share with friends.
Also see:
"The editorial content here is not provided by any of the companies mentioned, and has not been reviewed, approved or otherwise endorsed by any of these entities. Opinions expressed here are the author's alone. This email may contain links through which we are compensated when you click on or are approved for offers."
Voyager App: $25 Free Bitcoin For New Users (Now Live in All States but NY) from My Money Blog.
---
Copyright © 2018 MyMoneyBlog.com. All Rights Reserved. Do not re-syndicate without permission.