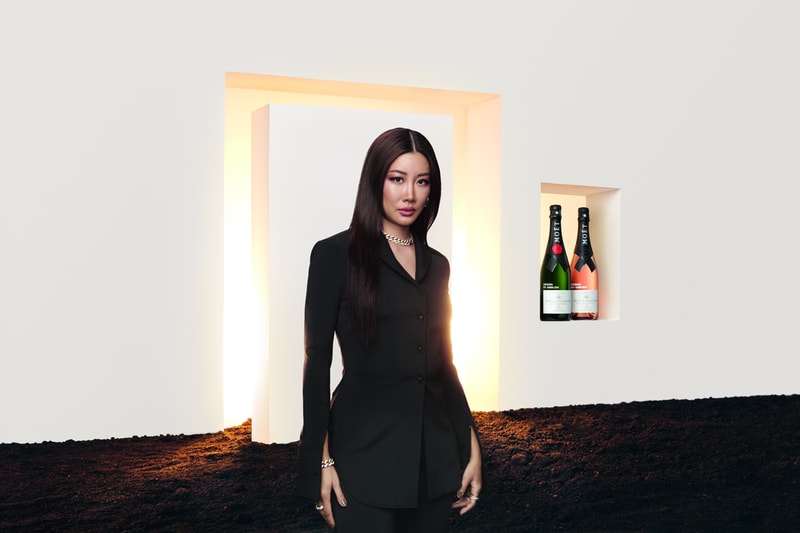 AMBUSH designer and director of jewelry for Dior Homme, Yoon Ahn, has always put her own spin on things. From the experimental jewelry she started out making and giving out to friends like Kanye West, to her collaborative Nike sneakers, Yoon's disruptive creativity and keen eye for aspirational product design has consistently made any piece she touches ultimately come to life. And the Moët & Chandon x AMBUSH partnership builds upon this, with Yoon applying her own contemporary design and eclectic style to Moet's iconic champagne bottles for a capsule drop.
Moët & Chandon, alongside Yoon, is delivering its first-ever global collaboration by re-designing the bottles of Moët Impérial & Nectar Impérial Rosé. While the bottle of Nectar Impérial Rosé has been the subject of prior fashion-forward collaborations with impactful designers, this is actually the first time in 152 years that the bottle of Moët Impérial, the House's signature champagne born in 1869, is redesigned by an artist. For the capsule, Yoon chose to inject her minimalist aesthetics onto the bottle changing the distinctive neck of both bottles, often recognizable by its gold or copper color, to a deep shade of black which perfectly contrasts the new embossed label in white. The attention-grabbing design projects an ambiguous nature onto the bottle, suggesting a blank state, that gives way to a future of possibilities.
Brining the essence of AMBUSH design to the Moët Impérial & Nectar Impérial Rosé bottles, co-founder and creative director of the brand, Yoon decided that she would ultimtaely look inwards to figure out how to approach this re-designing. "Just like for Moët Impérial, I looked primarily at the AMBUSH aesthetics, which are really reflective of my own philosophy of design. Both bottles have the same feel, except that the transparency of the bottle of Nectar Impérial Rosé brings an added richness through the pink color of the champagne," says Yoon. She went on to further explain how changing the color and contrasting the new all-white embossed label allowed for her to achieve a clean modernity of stark contrasts, which makes for "a striking design that is sharp, uncluttered and very contemporary."
Additionally, Moët & Chandon will donate a portion of profits from the sale of limited-edition Moët & Chandon x AMBUSH bottles to the World Land Trust, an international conservation charity that protects threatened natural habitats. "I was thrilled to be given carte blanche to re-design the bottles of Moët Impérial & Nectar Impérial Rosé. It was a great challenge given their recognizable and iconic codes, but I also saw it as a great opportunity to bring my own principles to these iconic champagnes," says Yoon, co-founder and creative director of AMBUSH, regarding the collaboration. "On my visit to Epernay, I saw the devotion of the people at Moët & Chandon to nature and to their precious territory. This inspired me to select the World Land Trust to receive the support of the House, so that together we could help preserve other territories around the world."
The Moët & Chandon x Yoon AMBUSH is available now. You can shop the champagne capsule drop right here on the brand's website.
Click here to view full gallery at HYPEBEAST