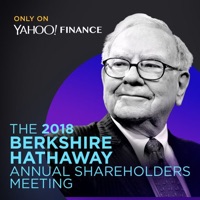 Fully updated for 2018 with new sources. Berkshire Hathaway's Annual Shareholder Meetings are held in Omaha, Nebraska every May. Although most of my portfolio is in a diversified mix of index funds, I also own individual shares of Berkshire Hathaway and respect the rational and clear advice given out by Warren Buffett and Charlie Munger. I've been reading through transcripts from past meetings, but in 2018 Buffett gave CNBC a bunch of complete tapes from old meetings.
I've wanted to physically attend a meeting for several years now, but things haven't worked out. (Time is running out, I know…) In the meantime, here is a big list of ways you can watch, read, or listen to past shareholder meetings. Please let me know if you have something to add.
Full Videos
Yahoo Finance Livestream. Yahoo Finance is the exclusive online host of the Berkshire Hathaway 2018 Annual Shareholders Meeting that occurred May 5th, 2018. View the entire Q&A session in its entirety on demand.
CNBC Warren Buffett Archive. Footage of shareholder meetings from 1994-2017 (VHS tapes!) were converted to digital videos, which you can view in their entirety for free. Additional material from CNBC including interviews, highlights, and short-form videos is also available.
Transcripts
Liveblogs
2018 WSJ Liveblog. Wall Street Journal has done a liveblog each year with highlights from the Q&A session. This is a good option if you are short on time. 2017. 2016. 2015. 2010.
Podcasts
Books
Reminder: This post is about the live shareholder meeting, and is separate from the annual shareholder letters (which are also great).
Berkshire Hathaway Shareholder Meeting Full Videos, Transcripts, and Podcasts from My Money Blog.
---
© MyMoneyBlog.com, 2018.