Los Angeles, CA– Dr. Jacob Coates , who is a practicing neuro-anesthesiologist for last 18 years, is protesting against awake craniotomies.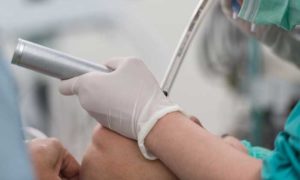 "This is BEYOND my comfort level," he explained. " I don't know what to talk about other than what have they had for dinner and when was that? Do you know how difficult it is to keep a conversation going?"
Dr. Jacob Coates expressed his concerns as the problem, in his opinion, is a matter of a patient safety. As anesthesiologists are not trained during their residency to be chatty with patients; forcing awake craniotomies, where a patient has to be awake during surgical excision of a brain tumour, mean a talkative patient during the procedure. Hence, going against the whole purpose of general anesthetics, and making everyone in the room uncomfortable.
"Have you ever wondered why we give sedation during surgery where regional anesthesia was utilized?" Dr. Jacob Coates asks, then explains that although regional anesthesia is superior to general anesthesia, anesthesiologists tend to give sedation on top of that so the patient remain quiet throughout the operation. Sedation has been very important tool for anesthesiologist comfort; particularly for those with an introvert personality.
His concerns extend beyond patient safety as well, owing to the fact that, there are no billing codes for intra-operative communication with patients. "It is complicated!" Dr. Jacob Coates sigh and add, "My workplace rights state that I should get paid for everything I do. However, I can't complain as this might threatens my job".
The issue adds an extra layer of anxiety from job insecurity; if surgeons were able to open someone's skull only under local anesthetic, then it is possible to completely do the surgery without the need for an anesthesiologist. There is a trend to do small procedures under local anesthetic in clinics, which is not a problem since these procedures are usually short- but craniotomies can take at least 4 hours to do. Thus, awake craniotomies without an anesthesiologist is a great threat for a specialty getting paid by the hour.